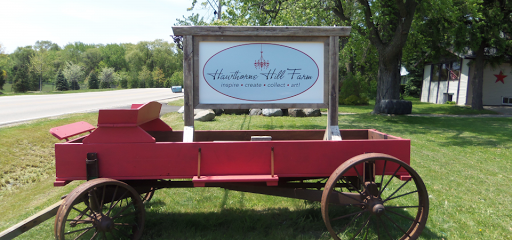 Hawthorne Hills Market
Start: Saturday April 21, 2018 at 10:00am CDT
End: Saturday April 21, 2018 at 5:00pm CDT
If walls could talk, the old boards and beams in the three-story, vintage barn on Small Road would reminisce about milking cows and sheltering horses. Now, they tell a different story. One of entrepreneurial spirit, creativity and inspiration. Wisconsin Artist Bonnie Lynn has transformed this historic farmstead into a unique destination where creativity and treasure hunting abounds.

Several special weekends each year, Hawthorne Hill Farm opens its barn doors to offer shopping markets.

Treasures reflecting each theme fill the barn and farmhouse. Each event showcases Bonnie Lynn's own unique artwork and treasures, local artisans' works and handmade collectibles, invited guest artists and vendors. Thousands of visitors have experienced the magic of Hawthorne Hill Farm since it first opened to the public seven years ago.

Creative workshops and women's retreats make up the other half of Hawthorne Hill Farm. Scheduled events and workshops are each designed around a theme — to unleash the inner artist in all of us. We invite you to visit Hawthorne Hill Farm — a place for you to inspire, create and collect — art.